Auto Giants Team Up To Invest In Hydrogen (Not Electric) Cars
Thirteen car and energy industry giants are teaming up to push hydrogen as the world's next major fuel source.
Honda, Hyundai, Royal Dutch Shell, BMW Group and Toyota are among the companies that have formed the "Hydrogen Council."
The group said in a release Tuesday that its formation is "a global initiative to voice a united vision and long-term ambition for hydrogen to foster the energy transition."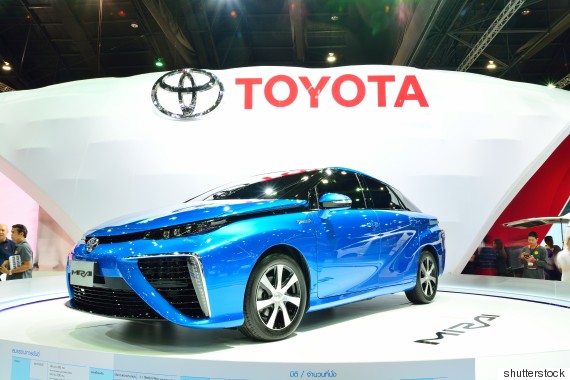 Toyota shows off a hydrogen-powered car at the Bangkok International Motor Show in 2015. (Photo: Shutterstock)
Members of the council will make significant investments in hydrogen as an attempt to transition from fossil fuels to a cleaner form of energy, to the tune of a combined €1.4 billion per year.
"At Toyota, we have always tried to play a leading role in environmental," Toyota chairman Takeshi Uchiyamada said in the release, adding that hydrogen has the potential to support a "low-carbon society."
Toyota plans to use fuel cells to reduce 90 per cent of vehicle emissions by 2050, Bloomberg News reported.
Hydrogen vs. electric cars
Hydrogen-powered cars are a tempting alternative for auto manufacturers. They offer the incentive of have a much larger range than electric vehicles, and take almost no time to refuel.
However, many have criticized the expensive infrastructure needed to support them.
Elon Musk, CEO of electric-car company Tesla, criticized hydrogen as a poor alternative to electric last year.
"I just think that they're extremely silly …. it's just very difficult to make hydrogen and store it and use it in a car," he said, as reported by Business Insider.
There are currently fewer than 20 hydrogen-fueling stations across in Canada — only a few of which are operating.
However, these are concerns that could be addressed by the council's investments, which also are intended to tackle more than just the auto industry.
"We are not trying to bring hydrogen only to cars or trains. We are trying to bring a systemic approach," said Benoît Potier, head of French supplier Air Liquide, according to CNET.
Follow The Huffington Post Canada on Facebook, Twitter, and Instagram.
Canada Business – The Huffington Post