Rental Rates In Canada Are Falling: Here Are The Cheapest And Priciest Cities
Rental rates fell in May in many Canadian cities, according to a newly-launched survey, but that doesn't mean renting a place to live is suddenly super-cheap.
A two-bedroom apartment in Vancouver rents for $ 1,000 more than a similar place in Toronto, according to rental site Padmapper — $ 2,780 a month, compared to $ 1,650 in Toronto, the second-most expensive city on the list.
The site used data from thousands of listings to determine the median price of apartments across 25 metro areas across Canada, and Vancouver topped the list of priciest rentals.
Click for full size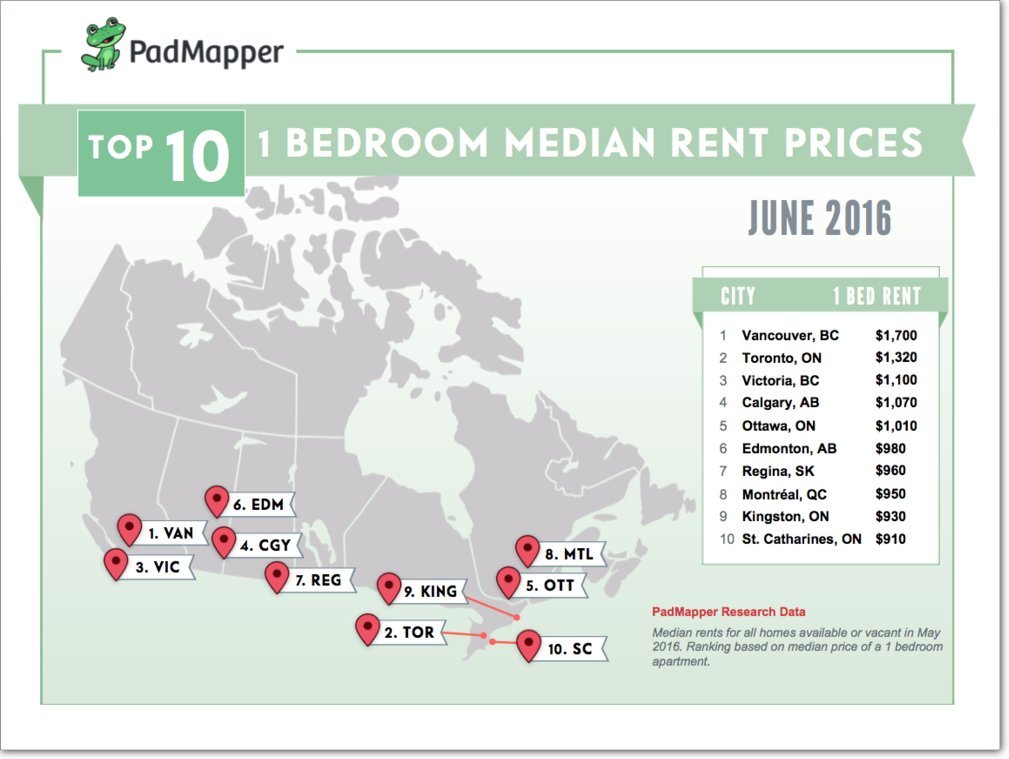 (Infographic: Padmapper)
If you're a Vancouverite looking to upgrade to a two-bedroom place from a one-bedroom place, you're going to need an extra $ 1,080 a month ($ 2,780 for two bedrooms versus $ 1,700 for one).
That difference is basically twice what it costs to rent an entire apartment in Saguenay, Que., the least expensive city on the list, where one bedroom will run you a mere $ 550, and you can get two bedrooms for $ 80 more.
Click for full size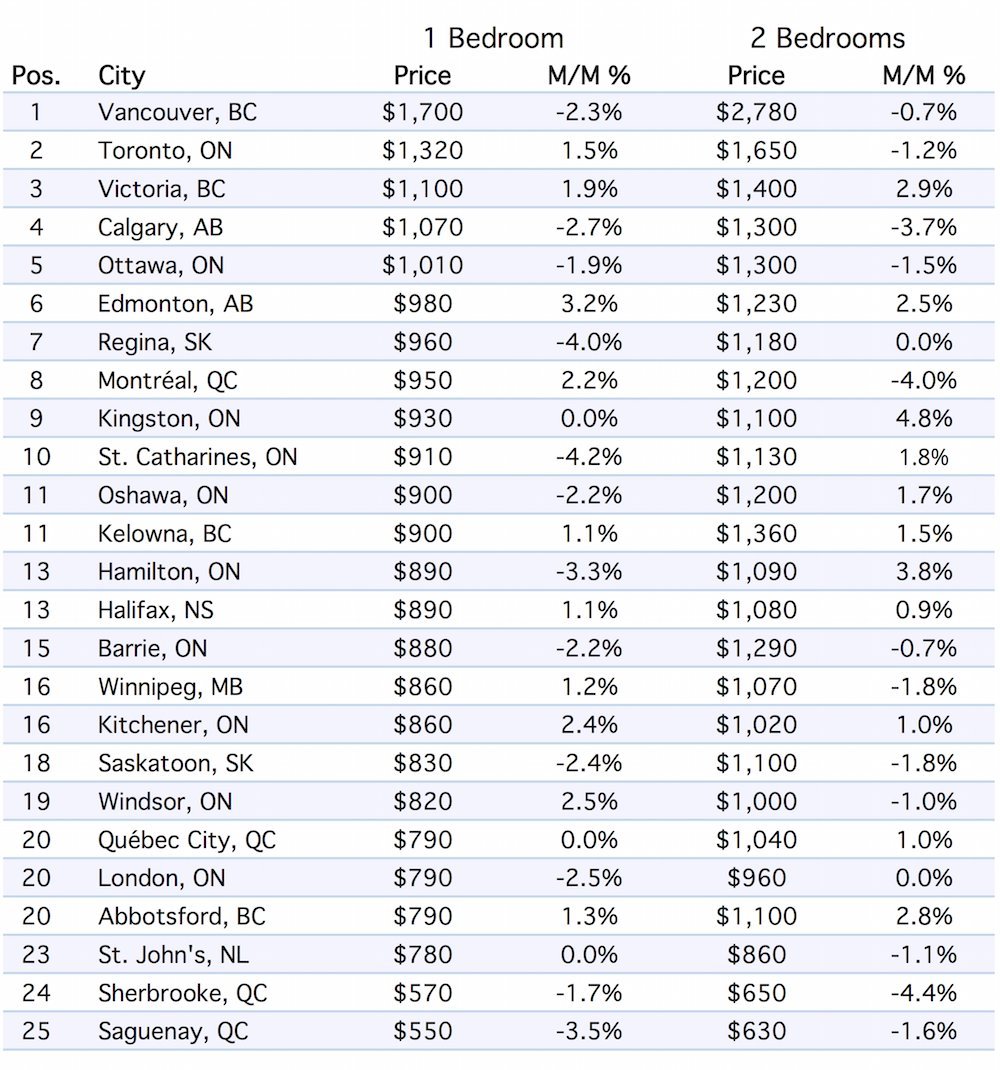 (Chart: Padmapper)
Rental rates falling at the moment
The Padmapper survey showed that rental rates fell in some of Canada's hottest rental markets in June from May, with Vancouver registering a 2.3-per-cent decline in rental rates and two-bedroom rates falling 0.7 per cent.
In Toronto, two-bedroom places were down 1.2 per cent but one-bedroom apartments were up 1.5 per cent.
But one-month changes in prices are very volatile, and Padmapper's recently-launched survey doesn't have older data to compare prices today with a year ago.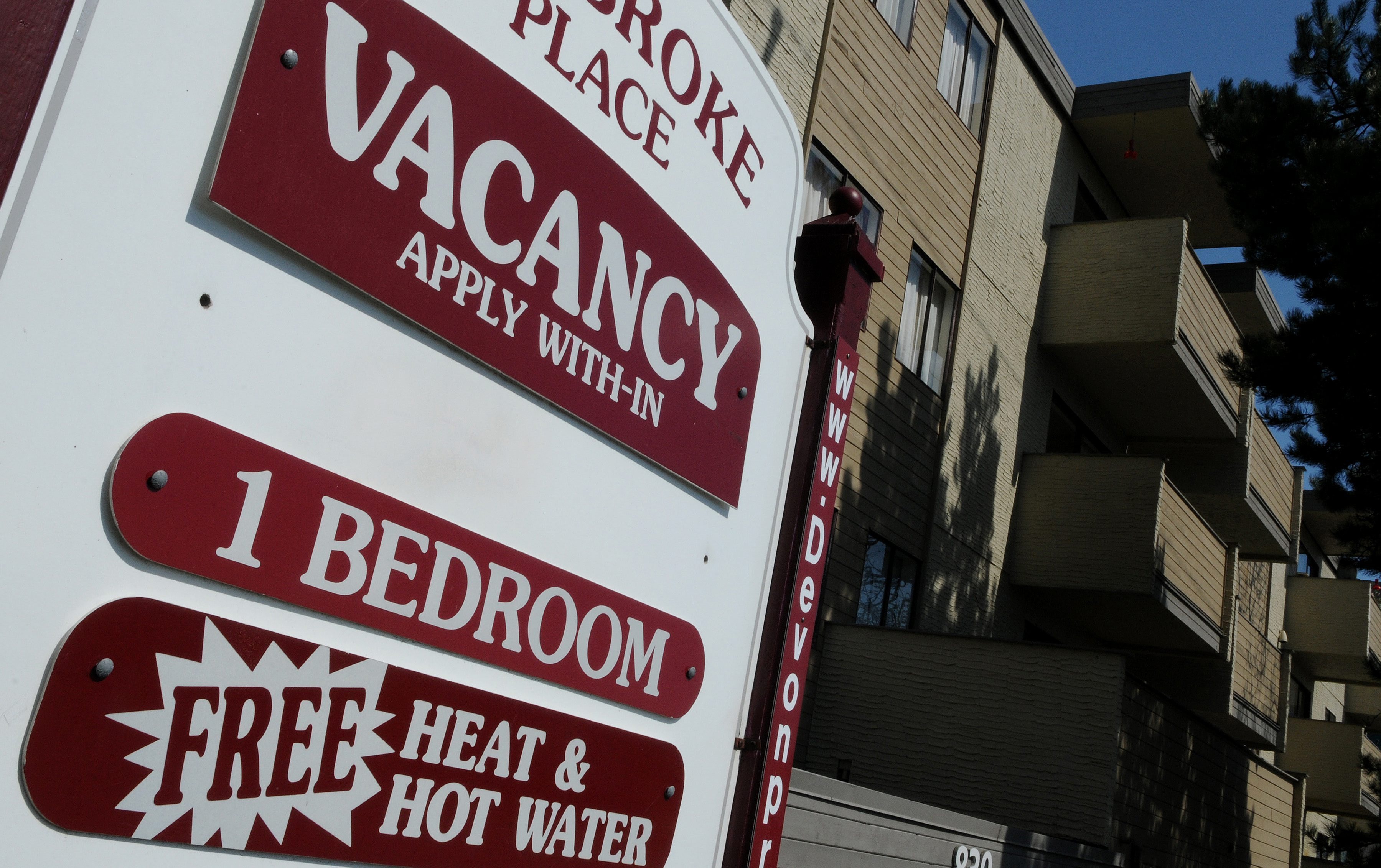 A vacancy sign outside a rental apartment in Victoria, BC, Canada. (Photo: Don Denton/The Canadian Press)
Still, numbers from other (not perfectly comparable) surveys suggest rental rates have risen over the past year. A Rentseeker survey carried out last fall found it cost an average of $ 1,368 to rent a two-bedroom apartment in Vancouver at that time, while in Toronto it cost $ 1,288.
Market observers say rapidly rising prices in Toronto and Vancouver are putting upward pressure on rental prices, especially rental condos.
"We noticed condo prices began to accelerate in the second half of [2015]," Urbanation vice-president Shaun Hilderand said of Toronto recently.
"Rents had been pretty flat for two or three years before that."
Like HuffPost Canada Business On Facebook
Also on HuffPost:


Canada Business – The Huffington Post